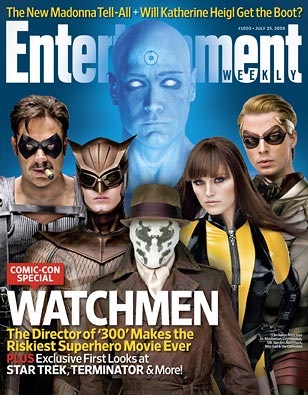 It was inevitable for someone to post shots from the
Watchmen
trailer next to the corresponding graphic novel panels, and
Ropesofsilicon
did the heavy lifting.
Looks like they made the cover of
EW
, not quite the classic lineup picture though. There's
a great cover story
with the first legitimate details I've seen and
a look back
with Moore and Gibbons.
Slashfilm
has the details on a
ET
homage thanks to an odd MPAA stipulation.
Patrick Wilson implies that
the movie will end like the comic
, as if there was any doubt. (Okay, I had a little doubt.)