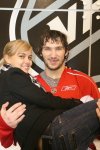 I first heard
reports of this
over the weekend, but didn't completely believe it until I saw Alexander Ovechkin and his girlfriend at the Wizards game last night. Apparently,
Ovy met this girl at a Russian dating site
(
Odnoklassniki
), and the Capitals put her on the fast track for a Visa. They first started talking online in November, and they met face to face for the first time February 7. Since then the Caps are 2-1-2, and Ovy's 2-3-5.
Forget all the eHarmony commercials - this is the biggest endorsement for a dating website ever. Sign up now and maybe you'll meet a superstar athlete! I imagine getting a date with a professional athlete making eight figures on a Russian dating site would be the equivalent of me getting matched up with Scarlett Johansson on JDate.