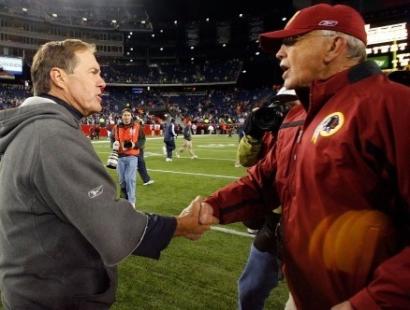 Joseph Jackson Gibbs
called it a career today, three days after a 21 point loss in Seattle. The Redskins made the playoffs eight times in 12 seasons in his first tour of duty, made the playoffs once in eleven seasons after he retired the first time, and have made the playoffs twice in four seasons this time around. Since the franchise was founded in 1932, the Skins have made the playoffs 10 times in the 16 seasons Gibbs has coached, and
11 times in the 49 other season
s
.
After Washington finished 6-10 in Gibbs' first season (they had gone 5-11 the season before under Steve Spurrier) it seemed inevitable that the Hall of Fame coach would tarnish his legacy by coming back. But late season runs in 2005 (
five wins in a row to close out the season
) and 2007 (
four in a row
) locked up two wild card spots and may have added to his legacy. He retires with the Redskins in better shape than they were when he got there, even after losing their most talented player in the middle of the season.
This is why it's not surprising that Gibbs opted not to finish out the five year deal he signed in 2004. This was the kind of season that can take months or years off of your life as a head coach, with Sean Taylor, Ron Springs' coma,
the agonizing loss to Buffalo
,
the 45 point loss to New England
, and a glut of injuries on offense, including 40% of the line for most of the season. Also, as close as Gibbs is to his players, he probably doesn't want to have to make the tough roster decisions that Washington will have to make to
get under the salary cap
.