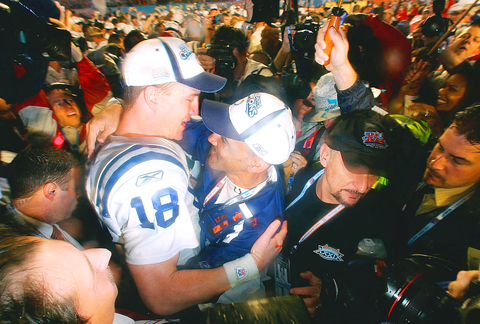 There are two ways of looking at the Colts loss to the Patriots yesterday. On one hand, the Colts were missing their leading receiver and starting left tackle and still managed to be competitive, and held a 10 point fourth quarter lead. On the other hand, the Colts seemed to move the ball at will, Brady was picked off twice including a spectacular interception by Gary Brackett, and the Patriots racked up an uncharacteristic 10 penalties for 147 yards, and the Patriots still won.
It's interesting that the Colts built the lead on their running game, the Patriots leaned on the best receiver in the league to come back, and the Colts couldn't hold on without their go-to receiver, while in the
AFC Championship Game last year
the Patriots built a 21-3 halftime lead on the strength of their running game, and blew the lead largely because they didn't have a go-to receiver. New England has a completely different look this year - they can play with a lead and they can come from behind.