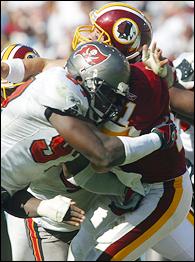 Yesterday,
Tampa Bay released
future Hall of Famer
Simeon Rice, reportedly because he failed a physical. Last year, limited by a shoulder injury, his sack total dropped to two, ending a five year streak of sack totals in double figures. Were he released six months ago, he likely would have been one of the more sought after free agents and landed a contract with a signing bonus well into eight figures. You have to figure the Dan Snyder and the Redskins, desperately in need of a pass rusher, are going to kick the tires on Rice. Then again, every team in NFL is in search of pass rushers and guys who can block pass rushers, so Rice figures to be busy the next week or two.
Adam Schefter notes that the Bucs will likely pursue Daunte Culpepper with the salary cap space cleared with the Rice release. This offseason they also signed Jeff Garcia, considered the premier free agent quarterback, and traded for Jake Plummer, who has unofficially retired. They join Chris Simms, who quarterbacked the team to a 10-6 record, winning the division, the year before last before missing most of last season with a lacerated spleen. The also drafted Gaines Adams, the premier pass rusher in the draft, but you can never have too much pass rush. The are scenarios where you can have too many quarterbacks.