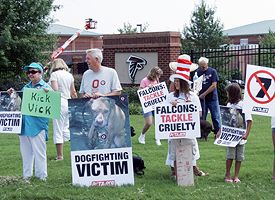 New NFL commissioner Roger Goodell has been doling out punishment like Pacman raining money on strippers since taking over last fall, most notably suspending Jones 16 games without a conviction against him. But with double digit run-ins with police, he clearly qualified as a repeat offender, leaving Goodell with discretion as to punishment. With Vick, although he had an incident
at an airport with a water bottle
that smelled like my frat house, he was never formally charged. So with regards to his involvement with dog fighting, Vick can make a pretty good case in an appeal of any suspension he would receive. But the indictment also speaks of Vick gambling at the dog fights, and here's where Goodell gets some carte blanche to suspend.
Now Atlanta will miss Vick on the field if he's suspended but every day he's not the players will have to deal with the enormous distraction of
PETA protests
, literally 50 or 100 times as many reporters from their training camp, facilities, and practices. And whether or not Vick is suspended he will miss practices with court dates;
he's already scheduled in court the first day of Falcons training camp, July 26
. The Collective Bargaining Agreement, hereafter referred to as the CBA, only allows for a team to suspend a player four games, (The T.O. Rule) so either the NFL suspends him, he takes a leave of absence, the Falcons cut him, or he plays.
I either want to see him play or for the Falcons to cut him. I love the drama of having him in court on Monday, practice on Tuesday, flying around the country, every night on Sportscenter watching him walk through throngs of PETA protesters at airports. Or for the Falcons to cut him so any suspension(s) will be served in 4-6 when he gets out of a Federal Prison and is completely radioactive to prospective teams. I don't want Goodell to suspend him and have to listen to the sycophantic Len Pasquarelli spouting off about due process or for him to get paid to ruin the Falcons season.
Make no mistake, whatever happens before the trial anything other than a not guilty verdict will result in the most significant punishment in the history of American sports. Two years at least, maybe a lifetime ban. If he's guilty, and he sure looks guilty, he will get his. What's the point of suspending him four games now by the Falcons, four more by the NFL, just to punt on dealing with the bad press? Let it play out, and then drop the hammer. Until then, enjoy the circus.