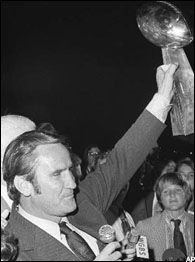 Prepare yourselves, '72 Dolphins - the '07 Patriots are going undefeated. Prior to Videogate, I figured that they'd sit starters and play conservative late in the season. Not now. Belichick wants to go undefeated under intense scrutiny and for this squad, which acquired the most talented player he's ever coached in the offseason in the form of Randy Moss, to be recognized as the greatest team of all time.
Looking at
their schedule
, their toughest matchups are at Dallas in week 6, at Indy in week 9 (right before the Pats' bye), and at Baltimore in week 13. The Cowboys are expected to add Tank Johnson and perhaps a healthy Terry Glenn at the midpoint of the season, so it's a good time to play them in week 6. Rodney Harrison will have served out his suspension by that point, and Richard Seymour will
probably
be back for Indy. New England hasn't exactly been forthcoming about Seymour's injury - but based on PUP rules if he's not back for Indy he probably won't play this season.
Most are ranking Indy and New England 1 and 1A right now, but some of the luster has eben taken off Indy's win against New Orleans now that they're 0-2, and they eeked out a win against the Titans by less than a field goal. The Patriots just routed two teams that went a combined 24-8 last year (in the AFC) by 24 points a piece. And if you thought they were fired up to play San Diego after Tomlinson ripped them and implied they were an inferior team, they will be spitting fire after blowing an
18 point lead
in the playoffs to the Colts last year.
The Ravens are a tough team, especially at home, but the Patriots are exactly the kind of team that matches up well against them - an offense with lots of quick passes and a passing game that doesn't need to be set up by the run. New England also plays the Steelers and Redskins at home, and they could always lose to a random team, but I don't see that happening. There won't be any champagne for the '72 Dolphins this year.