The Colts looked pretty unstoppable last night, even on defense. They held the top offense in the NFL last year without a touchdown as Freeney dominated All Pro Jamaal Brown, Bob Sanders made plays all over the field, and some guy named Freddie Keiaho is making the Colts forget about Cato June.
But of course the main man for Indy is Peyton Manning, and he picked on Jason David, who started for the Colts last year, all night, burning him for 3 TDs. The Colts got a huge scare on the first play when Joseph Addai went down on the first play, but it was obvious from replays that he just the wind knocked out of him from a shot to the solar plexus. Addai was most impressive last night on short yardage; I don't love him as a receiver out of the backfield, no matter what Madden said.
And although the Colts new starters on defense looked solid, especially in the back seven, Ugoh looked like a definite downgrade at LT.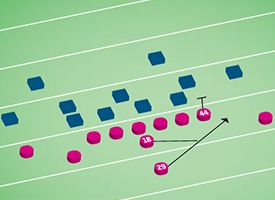 The Colts mostly ran the ball up the middle and to the right, but they've always traditionally run off right tackle with their patented
Zone Stretch Run
(diagrammed on the left). It's a difficult play to defend because Manning might be the best there is or ever was at selling the playaction.
Indy's Cover 2 defense (2 safeties don't let anyone get behind them) is a perfect defense for this team. The Colts go up two scores, the other team goes for a deep pass on 2nd and 8, then it's 3rd and 8, let Freeney loose next down. It seems like forever since the Colts run defense was the laughingstock of the NFL: in their last five games (coinciding with Bob Sanders' return) the Colts have averaged 103.8 rushing yards allowed per game. The five games prior to that - 213.6, including a show stopping 375 rushing yards allowed to the Jaguars.
The Saints shouldn't read too much into this loss, but they may want to find a better way to attack a Cover 2. Their secondary was their Achilles' last year, and it was a pretty bad sign that their big free agent signing was picked on by his former team. But their division doesn't look appreciably better than last year when they rolled through it. I'm sticking to my
ballsy prediction
that neither of these teams make the playoffs, though.