Vampires are so much cooler than other classes of monsters. Zombies and werewolves are more limited in power, and since they stick out in crowds zombie and werewolf movies are limited in scope. Frankenstein and Mr. Hyde generally stick to their literary roots, which is even more limiting. Vampire flicks can cover everything from superhero to teen angst movies. In honor of Halloween, here are my top 10 vampire movies.
1.
Nosferatu the Vampire
(1922).
8.1 on imdb
,
98% on Rottentomatoes
. Considered among the greatest silent movies, it's amazing that this 85 year old genre defining classic remains scary. Absolutely still worth a watch.
Number 16 on RT's Top Horror Movies
.
2.
Dracula
(1931).
7.7 on imdb
,
92% on RT
. Poor Bela Lugosi. You'd have to figure the accomplished Hungarian stage actor would have turned down this life defining title role if he had to do it over again. He died penniless;
Frank Sinatra reportedly paid for his funeral
. Still, great movie, among the most influential of all time.
Number 25 on RT's Top Horror Movies
.
3.
Vampire Hunter D: Bloodlus
t
(2000)
7.7 on imdb
,
70% o
n RT
. The director of the transcendent anime
Ninja Scroll
takes a swing at the sequel to the 1985 anime classic
Vampire Hunter D
. Among the best anime ever produced, with over the top action and some incredible villains.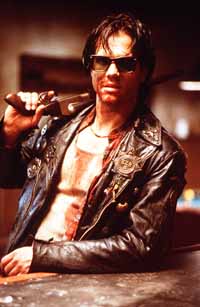 4.
Near Dark
(1987).
7.0 on imdb
,
91% on RT
. Fantastic movie whose influence is seen in dozens of horror movies. Terrific cast with Bill Paxton in possibly his finest role. ("We keep odd hours," one of the best lines ever.) Made Kathryn Bigelow's career.
Number 34 on RT's Top Horror Movies
.
5.
Dracula
(1992).
7.2 on imdb
,
82% on RT
. So what if it's not as great as the sum of its considerable parts? It's still a cool movie with a great choice for the title role even if the rest of the casting falls flat.
6.
Interview with the
Vampire
(1994).
7.3 on imdb
,
69% on RT
. A terrific translation of a terrific book with a terrific cast. The cast is completely stacked: Brad Pitt, Tom Cruise, Kirsten Dunst, Antonio Banderas, Stephen Rea, and Thandie Newton.
7.
Shadow of the Vampire
(2000).
6.8 on imdb
,
82% on RT
. More of a dark comedy than horror, Malkovich and Dafoe make for a great onscreen duo. Terrific concept based on the original
Nosferatu
.
Number 38 on RT's Top Horror Movies
.
8.
The Lost Boys
(1987).
6.8 on imdb
,
74% on RT
. A classic 80s Coreys movie. Kiefer Sutherland shines in an early role. I wanted to put it higher for nostalgia, but this is where it belongs.
9.
Day Watch
(2006).
7.0 on imdb
,
65% on RT
. An amped up follow up to the amped up
Night Watch
(2004), it loses a bit if you missed the first part of the trilogy. Available today on
DVD
.
10.
Blade II
(2002).
6.5 on imdb
,
56% on RT
. An entertaining sequel based on the comic book character directed by
Guillermo del Toro
(
Pan's Labyrinth
). Perhaps a bit loud and over the top, but it's never dull.