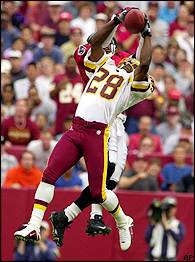 While
comparing this year's Patriots to other dominant teams
, I gained a new appreciation of the
1991 Redskins
. They played an NFL record tying 11 games against teams with 10 or more wins, led the league in scoring, 2nd in scoring defense, 1st in punt return average allowed,
3rd in punt return average
, and
allowed an NFL record few 9 sacks, while racking up 50
. An unbelievably well rounded team with seven Pro Bowlers but, as of now, zero Hall of Famers.
But that won't be the case a year from now as
Darrell Green was named a semifinalist
yesterday for the 2008 class of the Hall of Fame. Green and Cris Carter are the headliners, and Green is an even bigger lock that Carter to make it in on this first ballot, considering the difficulty receivers have had getting in. Now it's probable Carter will get in, and when his name is brought up you can bet
his stats
will be compared to
those of Art Monk
. Mostly, the stats are comparable, except Carter has almost twice as many touchdowns ("All he does is catch touchdowns"), but three fewer Super Bowl rings. Between two and five non-seniors candidates can be elected in a given year, so the difficulty varies from year to year. But the symmetry with longtime teammate Green and the Carter comparisons may be enough to finally get Monk the votes.